I've started my internship at Starz Animation, and as a direct result, this blog got... rather abandoned. Oops.
In any case, I'm back at it again, with more sketches and wonder! Let there be PIGEONS!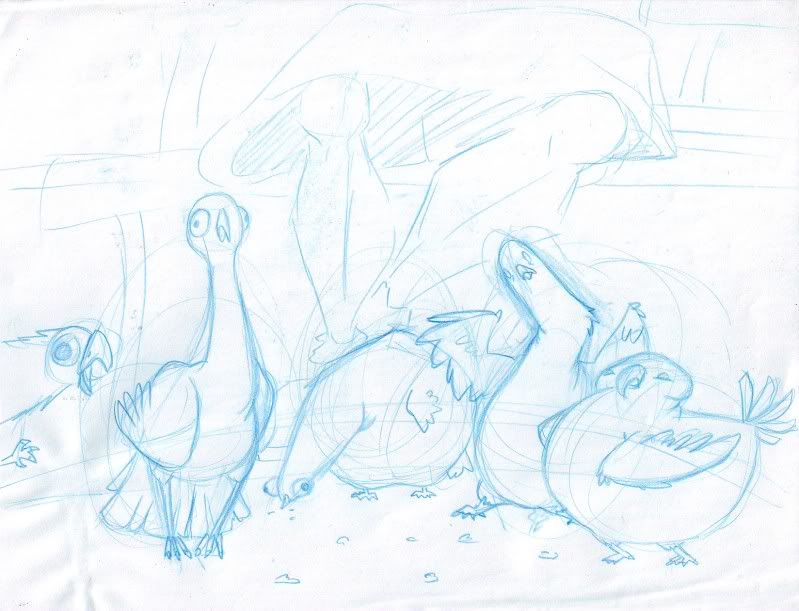 (thumbnailed! Click for a nice big version)
This was drawn for the Sketch Jam which the Mighty
Jim Graves
hosts at the end of every semester at Seneca College. The theme for the Jammy, which is the contest which runs at every Jam, was "Creatures"... although this wasn't so much a creature as an animal, I still had a lot of fun doing it.
I'm finding that experimenting with shape is a lot more fun when you stop thinking so hard about the functions of what things have to do. I don't honestly think that most of these pigeons would be able to walk, let alone survive in a basic city setting, but I still like their shapes and individual personalities and neuroses.
I'm starting to try to think more like this - drawing not just figures and shapes, but actual mindsets and thoughts. It's proving to be an interesting and amusing experiment - let's see how it pans out.
In the meantime, this poor little guy didn't make the cut to sit with the other pigeons, but I'm still rather fond of him.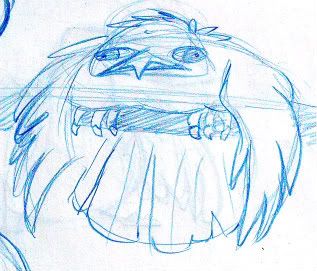 Enjoy!